After a very stormy morning, with gusts of wind weaving through from all directions and a short postponement ashore for some classes, 542 sailors headed out to the water for the penultimate day of racing at the Bacardi Invitational Regatta in Miami, Florida. 

The wind eventually settled on all racecourses and the race committees made final course adjustments in response to the shifty breeze, which increased from around 6-7 knots to 10-12 knots. The building breeze backed up the forecast of a strong northerly front for Saturday's final race day.

On the Star course magic happened and this year's heroes were born as the 2020 Bacardi Cup Trophy was claimed. The leaders of the series, Polish Finn Olympic Champion Mateusz Kusznierewicz (POL) and Brazilian five-time Star World Champion Bruno Prada (BRA) rounded the first windward mark in the unusual position of 10th, a place they had not found themselves in all week. Tack after tack they worked their way through the tough opposition to put in another powerful performance and cross the finish line in second, securing the 2020 crown of one of the oldest trophies in the sailing arena with a race to spare.

"I've attended the Bacardi Cup for so many years in my Olympic career but have never managed to win it," said an enthusiastic Kusznierewicz, who is also the reigning Star Class World Champion. "It is an unbelievable feeling to finally win this after finishing runner-up last year. Bruno and I had an amazing week, three bullets and two seconds, I can't remember having had a regatta so perfect in my life. I think I am ready for the Tokyo Olympics," he laughingly concluded.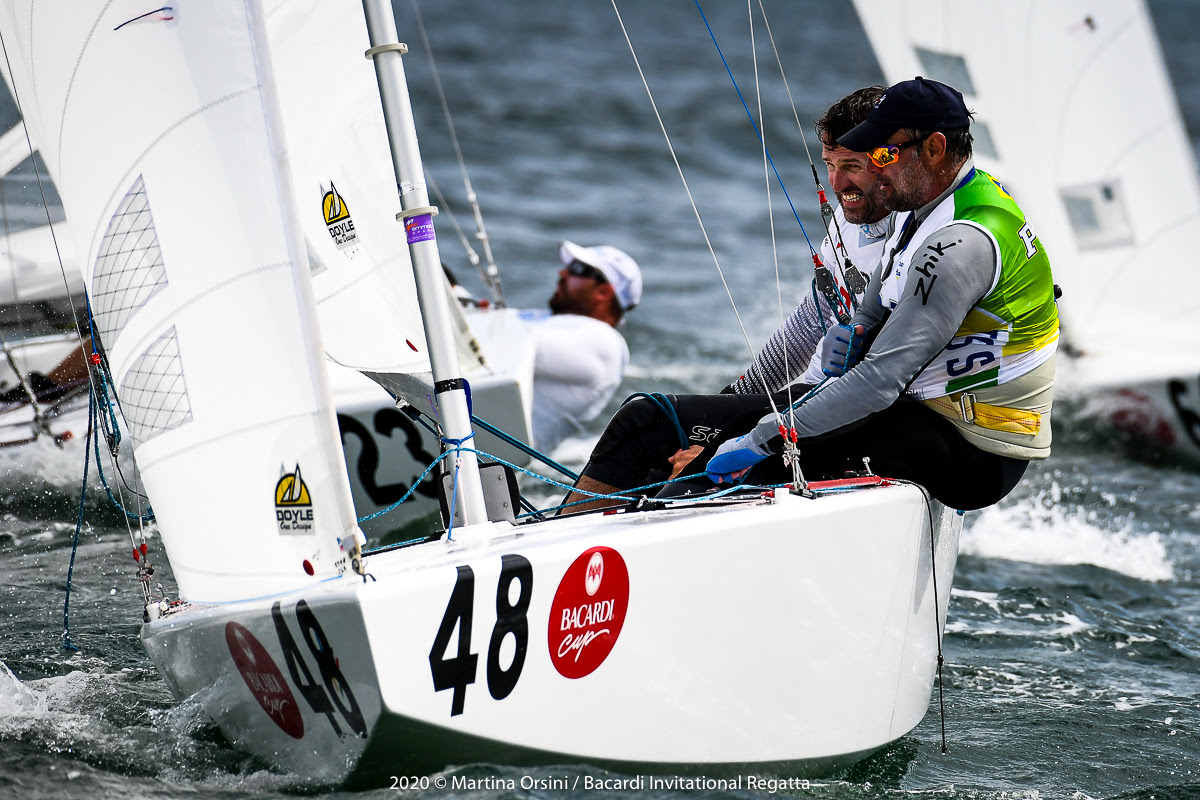 With the iconic Bacardi Cup trophy securely in the hands of the Polish-Brazilian partnership, attention now turns to the fiery battle for second and third on the podium. The Irish brothers, Peter and Robert O'Leary scored their second bullet of the series and are now in striking distance of the podium, placed in third overall. They engaged in an intense fight with the USA's Eric Doyle/Payson Infelise, who opened their day with some boat damage and just made it ashore and back out in time for the start of race 5. Doyle/Infelise had to settle for a 3rd place score to place seventh on the leaderboard. Despite scoring their worst result of the series, a 9th place, Eivind Melleby (NOR)/Joshua Revkin (USA) sit firm in second place. Tomorrow's last race will be a gruelling battle to complete the 93rd Bacardi Cup leaderboard, with the top seven teams separated by just 12 points and all in reach of a podium finish.

"Sailing with Bruno Prada is fantastic, I enjoy it so much," continued Kusznierewicz. "We had an amazing year together, we won the Star Worlds last June, then the qualification round for the SSL Finals and now this epic race. Of course it's easier to enjoy it when you are winning, but I loved this event so much, and I love sailing, I don't ever want to stop!"

Three races were sailed in the J70, Melges 24, Viper and VXOne classes, four in the Open Windfoil, but no racing for the AV8 kite boards.

In the J70 fleet, holding firm as leaders are the team on Eat Sleep J Repeat (Paul Ward/Ruairidh Scott/Ben Saxton/Mario Trindade), who despite an unusually up and down scorecard remain the most consistent in the fleet. Second and third respectively are the teams on Surge (Ryan McKillen/John Wallace/Sam Loughborough/Mark Mendelblatt) and NINE (Oivind Lorentzen/David Shreiner/Lucas Calabrese/Ian Coleman), who each claimed a race win and showed great form around the track. The opening race win of the day went to the corinthian team on Dime (Mallory Loe/Andrew Loe/Cardwell Potts/Brian Shores) who are 15th overall and second in their division.

The door is still very much open in the J70 fleet for any number of teams to step up to the podium, making tomorrow's final day a challenge for control of the fleet. Ending their day just two points off the podium is the team on Midlife Crisis, with Bruce Golison on the helm.

"Today was a very tricky day on the racecourse," said Golison. "The wind was coming from all over the place with lots of gains and losses for everyone. We had an ok day, not too good and not too bad. We are looking forward to the big breeze tomorrow, it should be a lot of fun and a great way to end the Bacardi Invitational Regatta".

In the Melges 24 fleet, overnight leaders USA 820 (Bora Gulari/Kyle Navin/Norman Berg/Ian Liberty/Taylor Canfield) had to surrender the track performance of the day to Raza Mixta (Peter Duncan/Victor Diaz de Leon/Mattero Ramian/Carlos Robles/Willem Van Waay), who claimed two firsts and a second, but USA820 holds onto first overall on tiebreak advantage. Realistically, unless there is a major change in form, the fight for first and second will be between these two teams. On an 11 point deficit to the leaders and in third overall going into the final day is Shaka (KC Shannon/Jackson Benvenutti/Ben Lynchi/Tom Sawchuk/Elizabeth Whitener). Claiming the third race win of the day was Team Sebaajo (Jan Frederik Dyvi/Jan Boro/Herman Horn-Johannessen/Malin Rorvik-Sundelin/Stian Ness Rorvik), who elevate themselves to be first corinthian team and 11th overall.

Tight margins in the Viper 640 fleet, with just 3 points separating the top three teams, led by USA 293 (Will Graves/Ryan Cox/Greg Dair) on 14 points, second to Evil Hiss (Geoff Ewenson/Mary Ewenson/Tyler Bjorn) on 15 points and in third is Ness (Mark Zagol/Tim Desmond/Arielle Darrow) on 17 points, who won the day's opening race. Bullets also went to Gnixe (Bill Vickers/Chip Steiner/V Vickers) and Antix (Anthony O'Leary/Ben Field/Nicholas O'Leary).

In the VXOne the top three teams won one race each, and end the day separated by just 3 points, with SendIt (Bill Wiggins/Jeff Eiber/Darby Cappellin) out front, chased by VX1 (Ched Proctor/David Guggenheim/Monica Morgan) and in third is Flying Jenny (Sandra Askew/Kyle Kandt/Jason Curvie).

Four races in the super fast Windfoil fleet again gave top billing to Brazil's Gabriel Browne, who took three wins to maintain his lead, followed by Alexander Temko (USA), who suffered equipment damage and had to retire from racing, with Justin Ahearn (USA) in third overall.

"Today was wild, very unstable," commented Justin Ahearn. "We were close to land and it was very tactical and strategic, you had to constantly be looking around for the next pressure, and you had to have confidence in your board handling skills to gibe and stay in the puff, 'cause the puffs were very small and you could fall out of them very easily. Lots of lead changes, which is exciting and uncommon in the windfoil, cause the fast guy will just start well and lead all the way, while today some of us were sailing with different windspeed".

After racing, the hotly anticipated appreciated Bacardi party got underway, serving as a taster of what is to come at Saturday's prize giving ceremony and closing party celebrations for the Bacardi Invitational Regatta 2020.
A special thank you to this year's event sponsors and supporters: North Sails, Fever-Tree Mixers, HATUEY® Beer, Marksetbot, Harken Derm, Gubinelli Wines, Termodinamica, Tuuci, Hobie, Coconut Grove Business District, Nautical Channel, Ocean Navigator and Jaguar Therapeutics.